Governance at Golcar J,I & N School.
Who are our school governors?
Our Governors are part of Britain's largest group of volunteers. We come from all walks of life and bring a range of experiences and skills to our Governing body. You don't have to be an education professional to be a Governor, but you do have to be passionate about education and be willing to commit some of your free time to work with the school.
We also have a Governor from the school staff as well as 2 Parent Governors.
The profiles of our Governors can be seen below.
What do our school governors do?
As individual Governors we have no power but collectively as a group, or Governing body, we have legal rights and responsibilities.
Our Governing body is the strategic leader of our school and has a vital role to play in making sure every child gets the best possible education.
The purpose of the Governing body is to 'conduct the school with a view to promoting high standards of educational achievement at the school'.
Our Governing body has a strong focus on its three core functions:
ensuring clarity of vision, ethos and strategic direction for the school

holding the headteacher to account for the educational performance of the school and its pupils

overseeing the financial performance of the school and making sure its money is well spent.
We aim to be an effective Governing body as this is a source of tremendous strength for the school and helps its leaders cope with major issues and handle change.
What our Governing body does not do?.
inspect the school

have involvement in the day-to-day running of the school

authorise all expenditure

decide which pupils will be admitted to the school

decide how pupils are taught individual subjects.
Our Governors are:
generously committed to the role

discreet, open minded and fair

willing to raise questions constructively and participate in discussion and decision-making

prepared to participate in the life of the school

able to attend governor meetings and training events

open to new ideas and ready to learn

act at all times with honesty and integrity and be ready to explain their actions and decisions to staff, pupils, parents and anyone with a legitimate interest in the school.

follow the Nolan Principals of behaviour
Our Governing process:
Our Governing body meets 7 times a year at meetings known as Full Governing Boards. Our Head Teacher is also a member of the Board.
These meetings are professionally clerked and all minutes are available on request. The meetings have an agenda which varies to include all the ' must do' business of the school through the year as well as our own hot topics and priorities. As many of the meetings focus on progress information and data as well as financial information, members of the Schools senior leaders also usually attend,
To make the Governing body more efficient, some of the areas of interest are devolved to individual Governors or 'link Governors'. These Governors will focus on specific areas within school, such as Safeguarding, then feed back information and observations to the Board. Summaries of visits by link Governors are available on the Schools website.
Further information:
For further information, request for minutes or interest in becoming a school Governor please email the Chair: sharon.appleby@golcarjin.com
Governor Visits Information & Feedback
Register of Business Interests 22-23
Committee Guidance for Maintained Schools
Annual agenda for governor meetings 2022 23
Sharon Appleby - Chair of Governors
sharon.appleby@golcarjin.com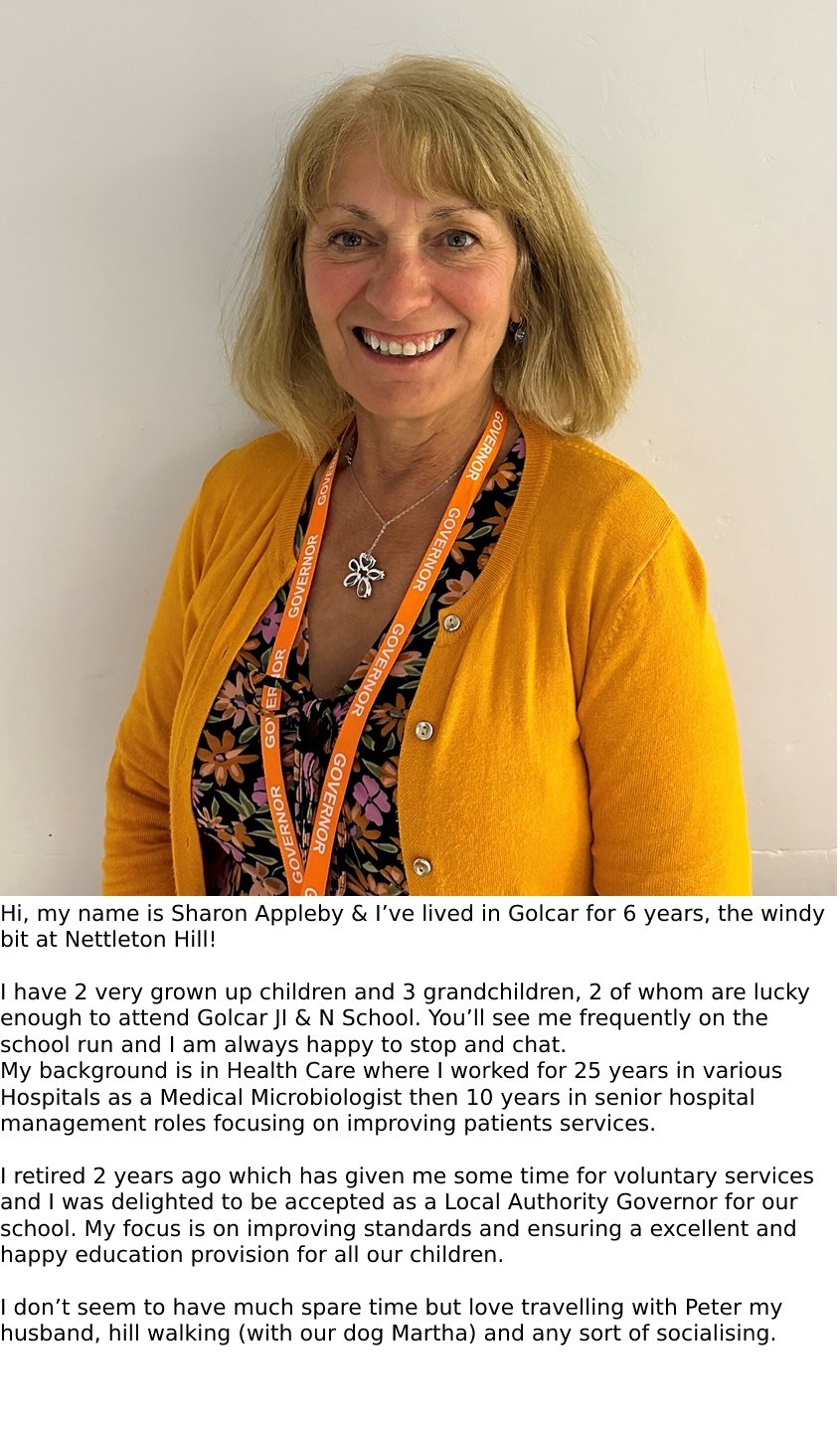 Lyndsey McManus - Parent Governor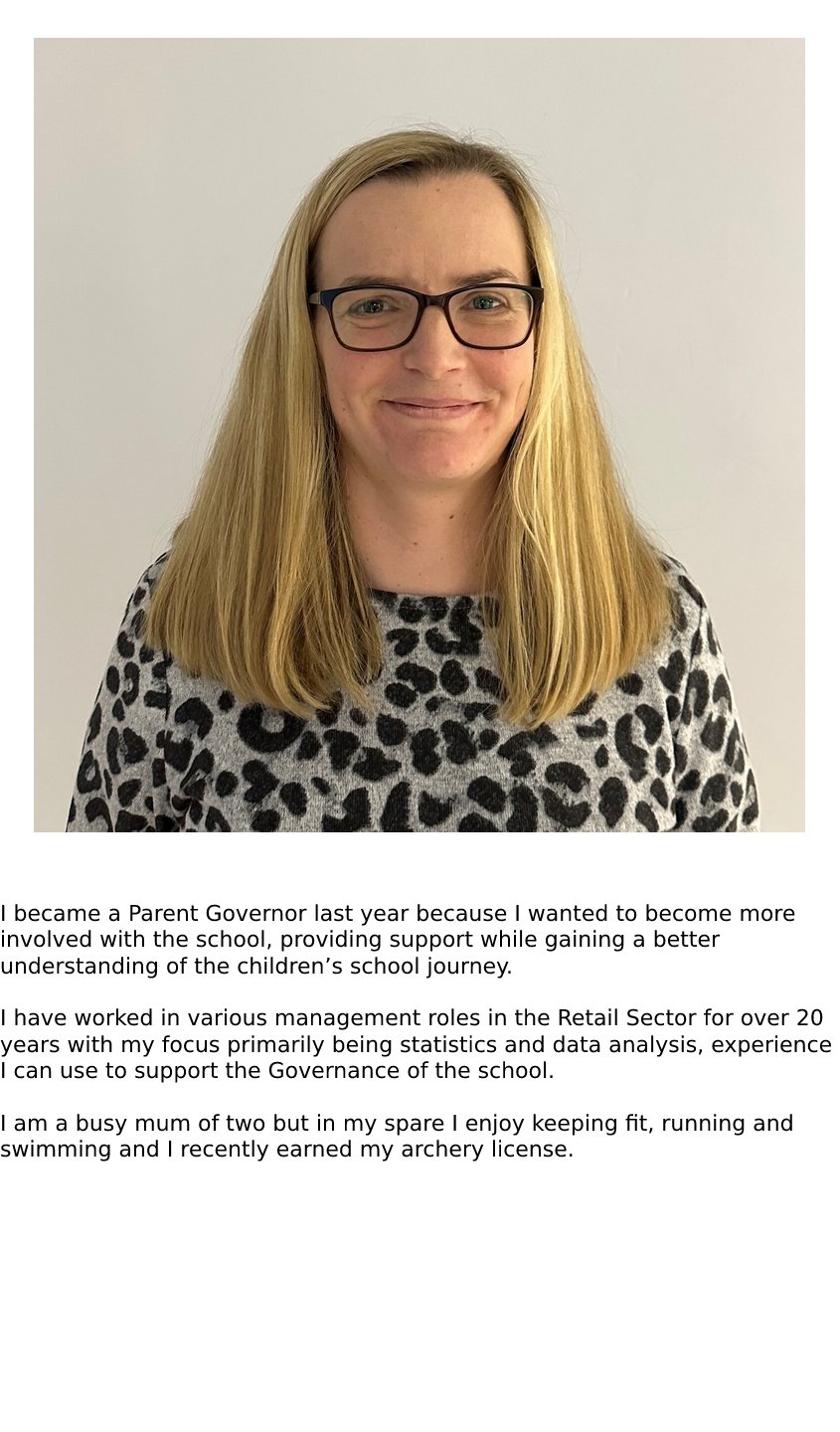 Lucy Prendergast - Staff Governor
Samantha Gallant - Head Teacher
Craig Thompson - Co-opted Governor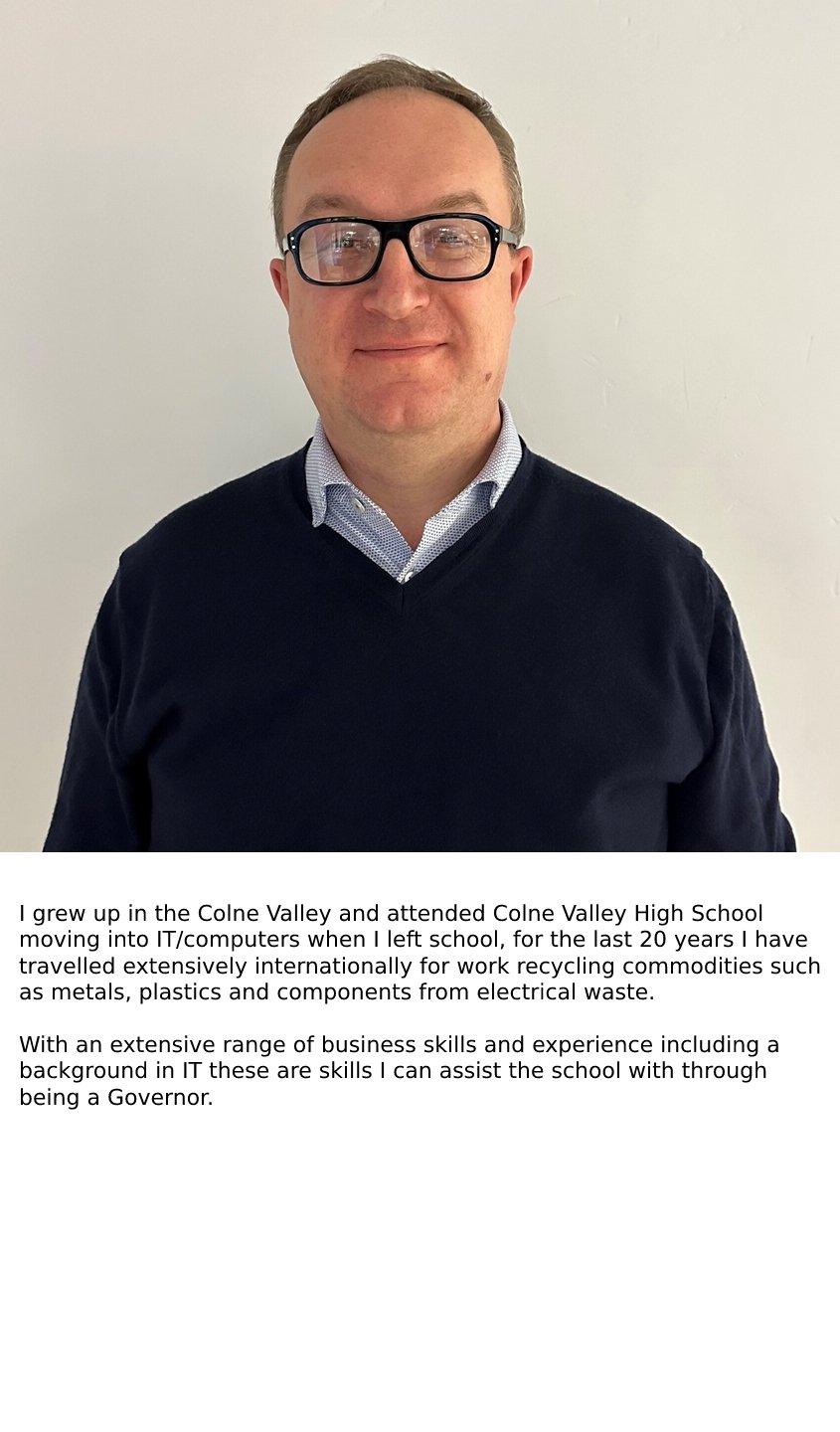 Dr Suzanne Bradbury - Co-opted Governor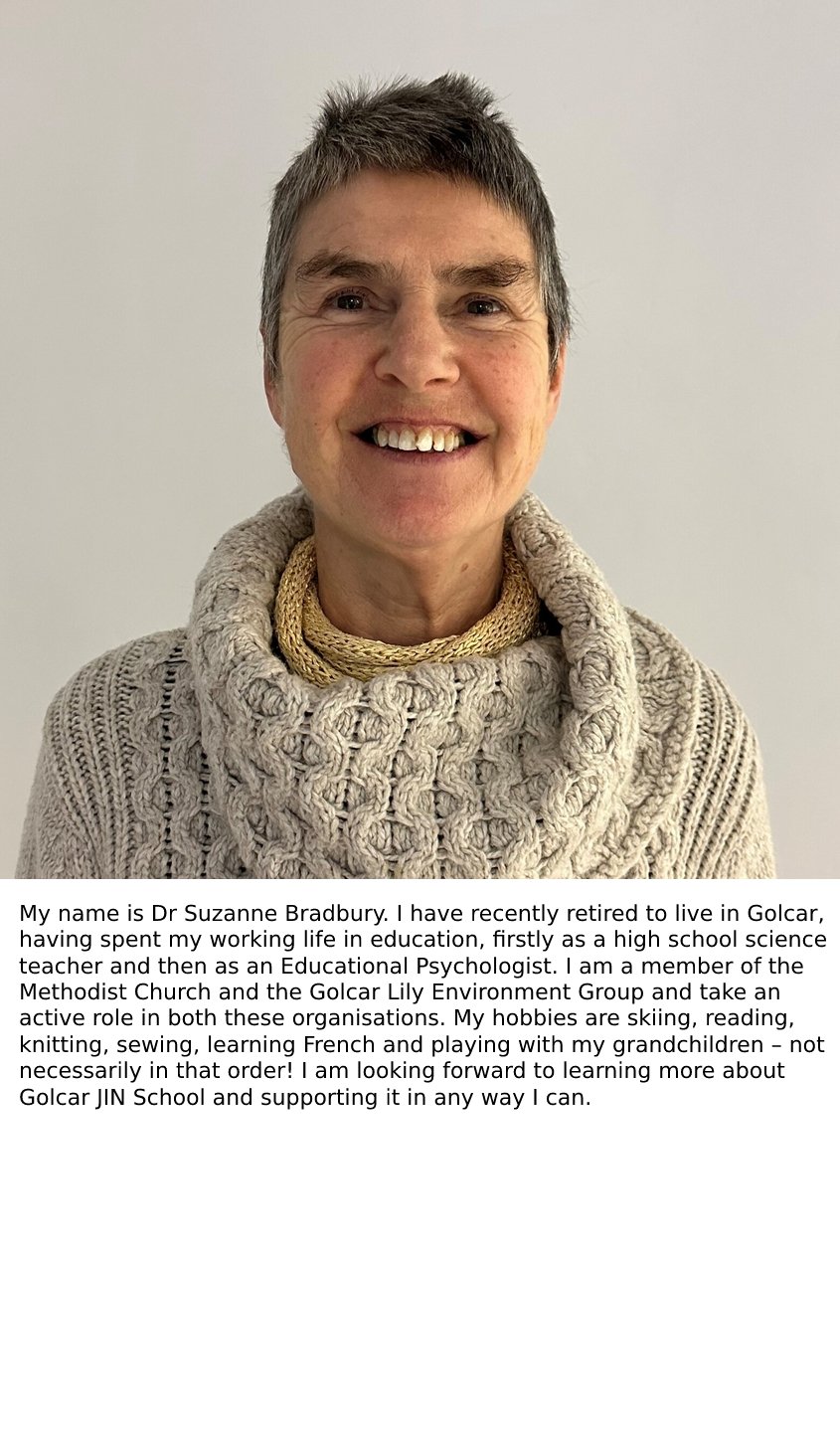 Chris Nicholson - Co-opted Governor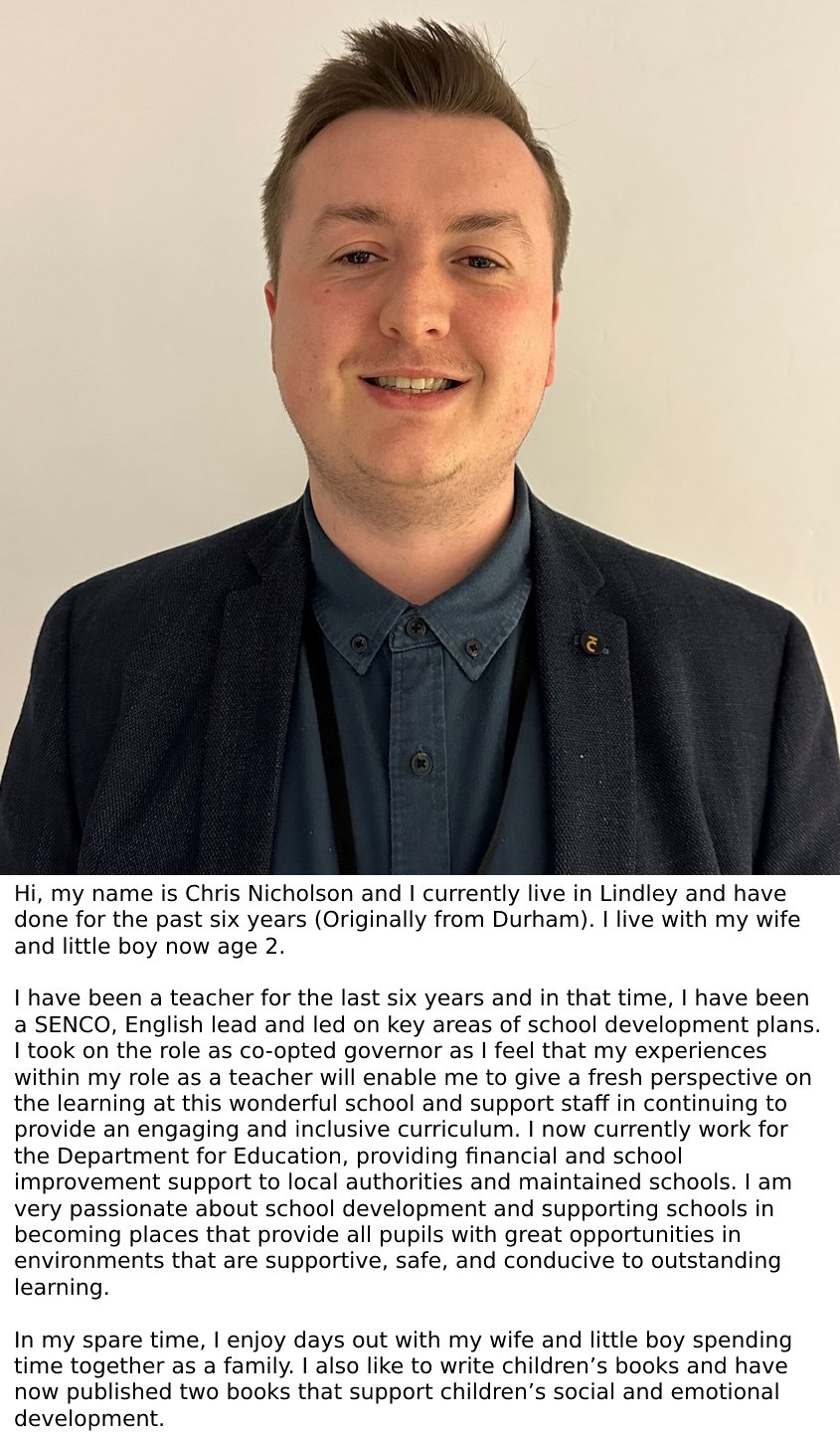 Marcus Farrington - Parent Governor
Hello, my name is Marcus and I became a governor at Golcar Junior Infant and Nursey School in the summer term of 2022. I am excited to be able to work closely with the staff to ensure that all children have the best possible experience during their time here. I have two children who both attend Golcar Junior Infant and Nursery school and I have enjoyed watching them thrive and develop over the years.
I have taught for more than 22 years in both mainstream and specialist alternate provisions. As my career has progressed, I have specialised in working with children and young people across all Key Stages and post-16 with complex Special Educational Needs and Disabilities. Inclusion drives everything I do as a professional and I strive to make a difference at every level of teaching and leadership to ensure staff are skilled in ensuring that children enjoy their school experience.
In my free time I enjoy playing the drums and bass guitar and going to see live music.
I look forward to representing you all as a parent governor.
Peter Cregeen - Vice Chair of Governors
peter.cregeen@golcarjin.com
Hello, I am a dad of two children both of primary school age.
I've been a governor for over 6 years at the school and work in Manchester in the Construction industry. I bring experience of dealing with complex staff structures and financial budgets with the forecasting associated.
In my spare time I enjoy local sports being a keen supporter of Golcar United and Golcar cricket club as well spending time out on my mountain bike.